UrbanWINS (Urban Metabolism Accounts for Building Waste Management Innovative Networks and Strategies) is funded by the EU Research and Innovation Program Horizon 2020. The project will study how cities consume resources and products, and how they eliminate the waste produced, in order to develop and test innovative plans and solutions aimed at improving waste prevention and management. These strategic plans will furthermore be tested in eight European pilot cities.
The scope of the project is to develop and test methods for designing and implementing innovative and sustainable Strategic Plans for Waste Prevention and Management in various urban contexts that will enhance urban environmental resilience and guarantee progress towards more sustainable production and consumption patterns together with improvements in waste recovery and recovered materials use.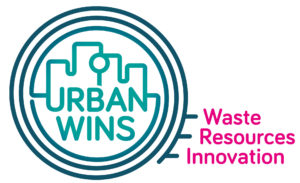 UrbanWINS will define a data set, based on material flow indicators, capable of supporting and orienting decision making processes for urban waste prevention and management. Knowledge of the factors that influence the metabolism of cities will be improved together with the understanding of how those factors can be transformed in positive drivers of technological, non-technological and governance changes. The information set produced by the consortium will also focus on how a more efficient use of resources and a better management of waste can improve urban quality and citizens' welfare, key points for urban stakeholders involvement, both in the planning and implementation of actions.
The project reunites diverse actors such as cities, research institutes and universities, environmental NGOs, IT&C, technological innovation and waste management companies, professional associations that represent EU regions, sectors and levels of governance. The complex partnership guarantees that advancement in EU research in the field of urban metabolism and waste management strategies is directly linked to stakeholder engagement and mutual learning and contributes to the achievement of resource efficiency and waste management objectives. UrbanWINS analytical tools will be built on the base of datasets and experiences of 24 EU cities from 6 European countries and the Strategic Plans will be tested by 8 EU cities and will encompass regulatory measures, educational initiatives and sector specific actions.
To find out more go to www.urbanwins.eu

fritz.hinterberger[at]seri.at

Find a list of all 27 partners here.
---